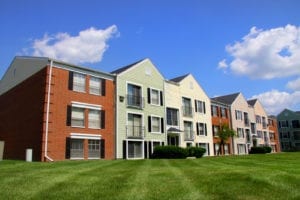 If you're a property manager, you can likely relate to the feeling that each day is like one big checklist. Whether you're in charge of a multi-unit property, a shopping center, or an office park, each space shares one common factor: They need a lot of TLC.
Your trusted pressure washing professional can help relieve the strain. With an ongoing maintenance plan, you don't have to worry about the condition of your property. You can always feel confident that it's maintained effectively and regularly.
Every successful service plan includes a few key components. Expect:
A timeline built on your schedule.

 Some properties need monthly pressure washing; others need it bi-annually. Our team will help you find a solution that is best for you.

Service that meets your budget.

 We can help you scale your service plan to fit into your budget.

Dynamic pressure washing solutions

. From concrete cleaning to building washing, our team covers it all.
We're here to create a solution that helps your business succeed. With our ongoing maintenance plans, your load will be lighter – and your property will thrive.