Commercial Concrete Cleaning
Your hardscapes aren't just the foundation of your property - they lay the foundation of your curb appeal, too. Superior Pressure Washing delivers commercial concrete cleaning that gets your exterior on track for success.
A Solution for Each Surface
Concrete space has a way of sneaking up on a property. It takes up a significant portion of your surface area, and its maintenance matters.
Our team is committed to cleaning all of your hardscapes to create a result that is professional and clean-cut, safe, and long-lasting. We deliver customized power washing service for:
Hot Water Pressure Washing: A Recipe for Curb Appeal
Your hardscapes are constantly under attack from the elements. And when you add the impact of foot and vehicle traffic, it doesn't come as a surprise that these surfaces get so worn down.
We take "stained" and turn it into "spotless." We take "eyesore" and turn it into "engaging." And we take "safety risk" and turn it into "safety guaranteed."
And we do it with hot water pressure washing. Using state-of-the-art power washing equipment, we deliver a comprehensive clean that revives all of your hardscapes. This deep-penetrating approach will:
With the expertise of our professional technicians and our hot water pressure washing system, your concrete surfaces won't just look clean -- they'll look like new again.
High Standards are the Only Standards
We take your property seriously. That's why our hot water pressure washing represents the best technology in the industry. When you're a Superior Pressure Washing client, you can always expect superior results. Because we don't settle for anything less. With our team tending to your property, you get the best quality.
Your hardscapes are the point of arrival for anyone who visits your property. They're also the last thing that people see when leaving your space - and so it's important to start and end the experience on the right foot.
That's where Superior Pressure Washing can help. Our commercial concrete cleaning protects your property with:
When you get commercial concrete cleaning from Superior Pressure Washing, you're getting a complete solution for your property. Invest in the best - and let us bring a one-stop-shop hot water pressure washing service to you! Your curb appeal will thank you.
Our Pressure Washing Services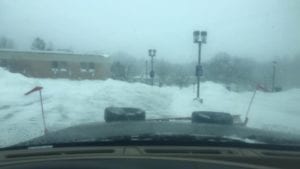 Why You Need to Use Pressure Washing To Keep Commercial Driveways Clean and Safe This Winter Winter is here once again, and with it brings extreme weather. Snowstorms, winds, sleet, you name it — expect temperatures to tumble in the months to come. This is why it's so important to maintain your driveway during this…