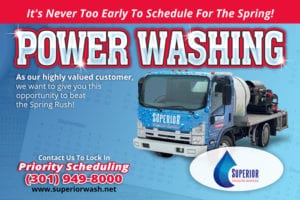 Wondering about soft washing your home's roof? If so, it's time to turn to the professionals at Superior Pressure Washing, servicing the areas of Olney, Rockville, Gaithersburg, Bethesda, Frederick, Columbia, and Potomac in Maryland!
Soft Washing Your Homes Roof
Soft washing your home's roof is integral for the cleanliness and health of your property. At Superior Pressure Washing, our low-pressure techniques are our trademark; if we can't clean it with low pressure, we won't do it! That's how we protect our customers. We have your best interests always top-of-mind and want to clean your home with quality. Safety is our priority. You can feel secure knowing that we provide a professional staff to gently treat your home.
Protecting Your Property
Superior Pressure Washing takes the utmost care to protect your property. We place one or more ladders around the home, using ladder standoffs to protect gutters. Large, heavy-duty trash bags go to the bottom of the downspouts to catch any solution runoff.
Also, all furniture goes back to its proper places, and Superior Pressure Washing provides a final rinse of plants. We also take special care to collect and dispose of all of our contractor bags. There's no worry for property damage or trash disposal with Superior Pressure Washing!
The Edge Superior Pressure Washing Provides
There's no need to worry about quality and safety when you turn to Superior Pressure Washing for residential roof cleaning. Our team always follows the Asphalt Roofing Manufacturers Association approved methods for cleaning and treating roofs. The professionals at Superior Pressure Washing will get your roof looking its best for all the seasons to come!
Why turn to the professionals at Superior Pressure Washing for soft washing your home's roof? Hear it from our customers!
We have been working with Pete Heon and his crew for the last couple of years, with their most recent visit last week. They are the best. Very professional, do the work as discussed, and help answer any questions we may have. We particularly want to thank Pete, Terry, and Hunter for the great work they've done during each of their visits. We look forward to working with Superior Pressure Washing for many more years to come. Thanks again, and keep up the great work! – Roni 5 Star Review