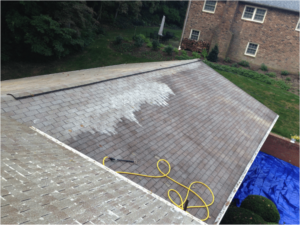 Superior Pressure Washing is the premier pressure washing company in Olney Md. The algae and dirt on your siding and window frames are no problem for the experienced hands of Superior Pressure Washing.
Gloeocapsa Magma
Those black streaks on your roof are not just a random stain leaking from the shingles or roofing nails. They are not from leaves or sticks either. The stains on your roof are called gleocapsa-magma, which is the main source of roof stains, moss, and algae. We use a low-pressure method of cleaning the roof. We use a very low-pressure pump with a chemical that kills the bacteria. Above is a picture in the middle of the roof cleaning process, many times we use tarps to cover delicate landscaping and woodwork.
The main concern with cleaning a roof is the surrounding landscaping, we always have multiple technicians working on roof jobs, one spraying landscaping with fresh water and making sure downspouts are bagged correctly and the other spraying the roof. After this process, we let Mother Nature do the rinsing, can't get any lower pressure than that.
Soft Washing
We use a method called soft washing for the delicate surfaces of your home like vinyl and aluminum siding. Soft washing is the process of spraying a fungicide mixed with a surfactant on your siding to kill all the mold spores and algae. With our professional equipment, we are able to then remove the dead growth from your siding with low pressure but high volumes of water. Often this process is completely done from the ground and with no more than 1,000 psi, which makes it safer for your home and us. So don't hesitate, call today at (301)-949-8000 to have your home cleaned the professional way.