Keep Commercial Driveways Clean and Safe This Winter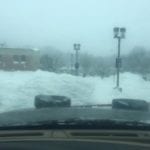 Why You Need to Use Pressure Washing To Keep Commercial Driveways Clean and Safe This Winter
Winter is here once again, and with it brings extreme weather. Snowstorms, winds, sleet, you name it — expect temperatures to tumble in the months to come. This is why it's so important to maintain your driveway during this time of the year. Keeping your driveway clean will prevent people from slipping over slippery surfaces and keep your business looking great.
Why Should You Invest in Driveway Cleaning?
Adverse winter weather can have a detrimental impact on your driveways. Falling leaves and snow can make these areas unsightly and dangerous, especially if you have a business to run. Concrete, in particular, can become an eyesore if it's full of leaves and rocks, and other items that have blown during strong winds. As concrete covers so much of your driveway area, this can soon become a nuisance.
What's the Solution?
Investing in pressure washing will keep your commercial concrete driveways clean during this time of the year. This way you can keep these areas safe and increase curb appeal. If you expect a significant amount of footfall during this time of the year, it just makes sense to pay for pressure washing. Otherwise, you could lose customers or clients.
What About Superior Pressure Washing?
Superior Pressure Washing has the experience and reputation you need when keeping your concrete driveways clean and safe at this time of the year. This company will use a commercial pressure washing solution that won't damage your surfaces and provide you with a return on your investment.
Looking for commercial pressure washing in the Gaithersburg, MD, area? Click here to find out more!