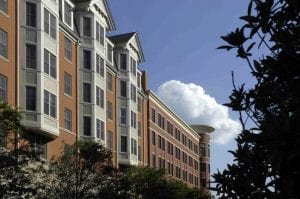 Looking for high-quality apartment complex cleaning to get your property in the best possible shape? If so, Superior Pressure Washing is the place to turn to! Proudly serving the areas of Gaithersburg, Olney, Potomac, Rockville, Frederick, and Germantown in Maryland, Superior Pressure Washing provides the high-quality service that gets your apartment complex looking its best.
So, why turn to Superior Pressure Washing for your apartment cleaning needs?
High-Quality Apartment Complex Cleaning
At Superior Pressure Washing, we use the best pressure washing and soft washing equipment to get your property as clean as possible. This means we deliver a high-caliber service with results to match.
We're not looking to drain our clients' bank accounts (something that our rates reflect). We offer competitive rates and deliver the best quality service. With Superior Pressure Washing, you'll deliver the first impression that both new and potential tenants will adore.
The Superior Pressure Washing Edge
Superior Pressure Washing takes pride in showing up on time, delivering one-stop-shop service, and always bringing the utmost professionalism to every job. You shouldn't settle for less. We prize quality and treasure consistency; every exterior cleaning service from our team represents the best in the industry.
Why Choose Superior Pressure Washing
We don't believe you should ever settle for a less-than-exceptional service. With Superior Pressure Washing, satisfaction is always guaranteed!
Want to know more about us? Read reviews from our customers themselves!